Inspirations: 101 Uplifting Stories for Daily Happiness
Are you ready to jump out of the fishbowl? Are you tired of what you've been swimming in? Do you want to be inspired? If you are experiencing a transition in your life, this is the perfect book for you. The 101 articles in this book guide you through personal stories to overcome the challenges we all face. The authors are teachers, coaches, and those who have made it their mission to inspire the world with their wisdom. Feel free to join us in our free facebook group as well and be part of the Inspirations Movement! www.facebook.com/groups/inspirationsdailyIn this book, you will: •Experience heartfelt personal stories of growth and transformation. •Shift your mindset around fear, anxiety, stress, illness, abuse, and loss. •Explore new possibilities and gain new understandings. •Be reminded that you are never alone.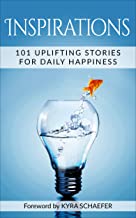 When Angel Speak:
Tap into the divine love and energy of the Archangels and guardian angels all around you. Your angels are here to help you develop in positive ways. The angel authors in this book teach you to discover your unique abilities when connecting to this divine source. If you have been struggling with stress, fear, self-doubt, or have been feeling stuck, this book will help connect you with a loving source: your angels.
Learn from expert angel communicators how to:
· Tap into the unique power of the angelic realm
· Use unconditionally loving energy to transform challenging life circumstances
· Gain access to wisdom that is based on integrity and kindness
· Connect to an endless flow of angelic energy every day